By Pat Turner
Heriot Clarkson's summer colony in Mitchell County brought a variety of people to this area. As they met and mingled with local people a stage was set, that plays out to this day. Here is an example.
Frank Stanley Herring and his wife, Frances, took a room at the Switzerland Inn in the late 1920s. He was an artist who lived in New York City, teaching at The Grand Central Art Galleries School. They claimed their place with Ida Clarkson Jones each year, later renting a cottage.
Ida and her brother Heriot had become friends with my grandparents, Fons and Jane Buchanan McKinney. Their friendship naturally led to a friendship with the Herrings. This would come to include my great-grandmother, Nancy Deweese Buchanan. Frank began to paint portraits of my family.
The first was a life sized oil of Fons and Jane's daughters.  These three McKinney girls were blonde with blue eyes.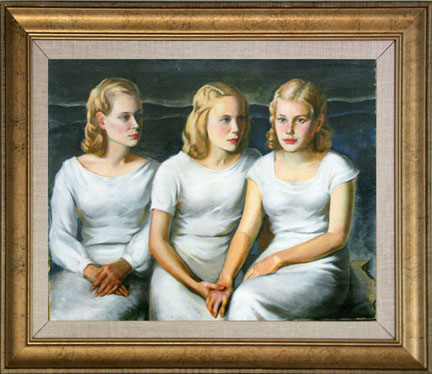 "Three Sisters" by Frank Stanley Herring, 1929.  From left to right: Thelma Anne McKinney, Ida Jones McKinney, and Mildred Missouri McKinney. Ages, (approximately) 15, 17, 14. The painting is life-size.
Their fourth daughter, Edith, had brown hair and eyes. She must have been devastated to be left out (at age 12). Edith was my mother. In 1934 she represented Spruce Pine in the Miss North Carolina contest in Greensboro, sponsored by the State American Legion.
Mildred became Mr. Herring's model. He painted a watercolor of her at age 17. This was the time he made a drawing of Nancy Deweese Buchanan, Jane's mother.
Our family has the watercolor and drawing. The oil of the "Three Sisters" was found by a friend and now resides in The Hickory Museum of Art. When Mildred was 19, she was taking art lessons from Mr. Herring. One day , her cousin Carrie Buchanan (Washburn) introduced her to a young man. His name was Paul W. Whitener from Hickory.
Paul had been a student at Duke University on a football scholarship. He suffered a skull fracture and was hospitalized. Here he met another patient, Harriett Morehead Berry, known as the Mother of Good Roads in North Carolina. Through her, Paul had been hired to do office work for road construction, close by Little Switzerland. She had invited him to stay with her for the summer. Carrie was working for Mrs. Berry at the time.
As fate would have it, Paul came by while Mildred was sitting on a hillside painting a landscape. He said, "I believe I could do that." Their friendship began that day. He and Mildred married in 1936 and moved to Hickory. Paul started painting with Mr. Herring and taking lessons from Wilford S. Conrow. Mr. Conrow was a renowned portrait artist who Mickey and Paul met at an art show near Waynesville. Paul was his only student.
With the help of Hickory businessmen and his artist friends Paul began planning an art museum for Hickory. 'With neither a home nor a collection, the Hickory Museum of Art (HMA) was born.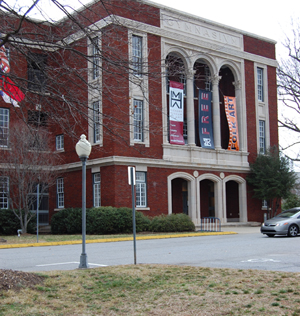 In February, 1944, the Museum was publicly recognized and chartered in the state of North Carolina by Governor Clyde Hoey. (The Legacy of Paul W. Whitener by Thomas R. Perryman, American Art Review, April 1998 edition) This was the second museum chartered in the state of North Carolina.
Paul was director of the museum until his death in 1959. Mildred (Mickey) McKinney Whitener succeeded him and continued this legacy for 37 years. Currently, the museum is showing some of the works collected by Paul in The Paul Whitener Gallery. "Hudson River School Era" opened July 24 and runs through Fall 2010.
Chance meetings gave a legacy to us all in North Carolina..
Pat Turner is a resident of Little Switzerland.
Article from the Mitchell News-Journal, September 8th, 2010