"You don't find Little Switzerland, Little Switzerland finds you."
I wish I could take credit for these words, but they were spoken by a friend as we were having lunch at the Switzerland Cafe. As was her custom, she was enjoying a month-long vacation here and was quick to recognize the charm that infuses the Little Switzerland community.
Those of us who are "newcomers" are often asked how we came to live in Little Switzerland. There are as many stories as there are residents, each of us has a tale to tell. Mine is a simple story. Someone took time from a busy life to perform an act of kindness.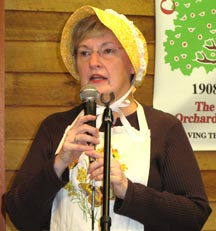 As a child growing up among the flat tobacco fields of eastern North Carolina, I came with my parents to the mountains for vacations. We would travel across the state, on Hwy. 70 for the thrill of driving along the Blue Ridge Parkway. Perhaps it was an innate calling from our British Isle ancestors that my mother's fondest wish was to live in a little house on the side of a mountain. I am now living her dream.
In the summer of 2000, my husband and I brought our granddaughter to Blowing Rock for a weekend of fun at Tweetsie Railroad. On our way home to Raleigh, we visited with former neighbors near Winston Salem. I mentioned to them that, now I was retired, I would like to have a mountain house. They said, "Maybe you should look around Little Switzerland, We have a friend who has spent summers there since she was a kid."
The following week I received an envelope postmarked, "Little Switzerland." Inside was a brochure published by local real estate companies with a personal note from my friend's friend, recommending a few of the properties on the market. A few days, later another friend suggested we celebrate our retirements with a trip to the mountains and she agreed to look at houses while we were in the area of Little Switzerland. In the interest of brevity I will confess to be being an impulse shopper. I bought the first house I looked at I and I made the offer without my husband seeing it. Except for accepting his marriage proposal, it is the best decision I ever made and I know he agrees with that. I am only slightly exaggerating when I say that we bought a view and fortunately a house came with it; If home is where the heart is, then Little Switzerland is truly our home in every sense of the word. We love its beauty, its history, and its people. We take pride in being a part of this community and cherish the friendships we have made.
"You don't find Little Switzerland, it finds you." Little Switzerland found me through the compassion and kindness of friends. And I suspect there are a number of us who could say, "I found myself in Little Switzerland."
– Elaine Percival, Little Switzerland resident.
Published in Mitchell News-Journal January 13th, 2010
Photo: Elaine and her husband Bryce are wonderful dance partners!